Censor Board Bans Anti Hindu Film Ka Bodyscapes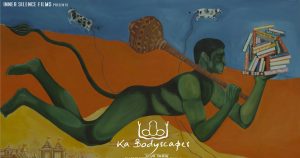 HinduismNow applauds the censor board for banning this Anti-Hindu film that tried to portray Lord Hanuman as a Gay individual and insulted the faith of a billion people under the guise of supporting alternative sexual identities. It is these kind of filthy tricks that the media uses that we need to watch out for. Next they would make a film on disabilities where Hindu Gods come with broken limbs. I bet that they will not make a film calling Jesus or Mohammed a homosexual. Because they know only Hindus are spineless and won't thrash them up. It is good that we have a Government that works for the people instead of against them.
Freedom of speech works only when the Media and the Film industry are actually Free. When it is controlled by a mafia with vested interest and anti national ideologies, the people will have to make their power felt and hit at these frauds. Mass protests such as the Jallikattu show that people are waking up to the conspiracy of courts imposing a communist cultural hegemony over India.. Now it is the turn of the Film makers and the TV Channels to face the wrath of the people..
FTII Chairman Gajendra Chauhan has come out in support of Censor Board's decision to refuse certification to the Malayalam LGBT film, Ka Bodyscapes. "I would like to appreciate Censor Board and revising committee that they stopped the film from showing. I got to know that Lord Hanuman has been shown in a derogatory manner. I object," said the 60-year-old to ANI on the last day in his office.Gajendra also said that films like Ka Bodyscapes shouldn't be allowed in India as nobody has the right to hurt a religion and its views. "Court should also not allow it. What do they have to prove by making movies on freedom of expression and artistic values? Do they want to show the future generation their parents in bad light?" Gajendra was quoted as saying in a New Indian Express report. "Make a movie on sexual orientation that can teach something, not hurt a religious belief. I condemn the movie," Chauhan added.