Nithyananda Vedic Temples Celebrate Hindu Awareness Month[October] Declared by California Government in Recognition of Contributions by Hindus
Paramahamsa Nithyananda to give a worldwide talk on the utility of the colorful vibrant and timeless Hindu tradition followed by more than 1 billion people on the planet, on the occasion of Hindu Open House celebrations at two major Nithyananda Vedic Temples in California
(PRWEB) October 23, 2013
As reported in several leading news media in US, India West reported; "In a historic moment for Hindu Americans last June 24, the California state Senate passed Senate Concurrent Resolution 32: California Hindu American Awareness and Appreciation Month. Introduced by State senate Majority Leader Ellen Corbett, SCR 32 designates October 2013 as California Hindu American and Appreciation Month and recognizes and acknowledges the significant contributions made by Californians of Hindu heritage to the state. The resolution also received the support of 55 non-governmental organizations, interfaith leaders, civil rights activists and community leaders from across the country who previously wrote to all state senators urging them to pass SCR 32."
Out of several Nithyananda Vedic Temples in USA and around the world, there are two major Nithyananda Vedic Temples in the state of California. One in Los Angeles and one in San Jose. The Hindu Temple at Montclair holds the largest number of tallest deities in North America. With more than 50 deities of Enlightened Masters from the Vedic tradition, the Nithyananda Vedic Temple serving as a place of worship, meditation and celebration. Energized by Enlightened Master His Holiness Paramahamsa Nithyananda, the Nithyananda Vedic Temple of Los Angeles (Montclair, CA) is not only a center of worship and meditation, but also educates and inspires millions of people worldwide, under the spiritual guidance and inspiration of Living Enlightened Master Paramahamsa Nithyananda.
Oct 27th calls for Grand Celebrations of Hinduism in the Nithyananda Vedic Temple in Montclair, California. The event named as 'Hindu Open House' is inviting several dignitaries and communities from around California to grace the occasion which will showcase, why Hinduism is successful in producing the well-rounded human beings who are spiritually centered and highly successful in the outer world.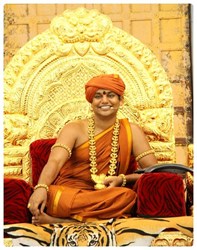 A recent news on CNET [http://news.cnet.com/8301-13579_3-57602273-37/marc-benioff-explains-steve-jobs-spirituality-and-chides-apple/ has Sales Force CEO Marc Benioff sharing about Apple's Steve Jobs being a spiritual being and also according to Isaacson's biography, Jobs "first read it as a teenager, then reread it in India and had read it once a year ever since." In 1974, Jobs traveled to India, seeking some spiritual enlightenment. "He had the incredible realization that his intuition was his greatest gift, and he needed to look at the world from the inside out,"
The Hindu tradition and culture which is the basis for modern day Hinduism and several other Eastern faiths has been a rich source of inspiration for thousands of years. The mission and vision of Nithyananda's spiritual mission through the Nithyananda Vedic Temples across the world is to renew these Hindu traditions and to ensure yogic technologies and mystical sciences continue to enrich humanity for many centuries to come.
All are welcome to join the Hindu Open House Celebrations on Sunday, October 27th at the Nithyananda Vedic Temple located at 9720, Central Ave, Montclair, CA – 91763. More details on the event is available by contacting 909-625-1400. A variety of pure vegetarian satvic food is served at no charge every event and as a daily ritual to anyone who walks into the Nithyananda Vedic Temples across the world.
His Holiness Paramahamsa Nithyananda will be addressing the world wide followers, seekers, disciples and Hindus from all walks of life via on Oct 27th, Sunday at 7.30PM Pacific Time. Paramahamsa Nithyananda, in this live discourse, will share the essence of Hinduism and the utility behind the colorful, vibrant and timeless Hindu tradition followed by more than 1 billion people on the planet.
About His Holiness Paramahamsa Nithyananda:
His Holiness Paramahamsa Nithyananda revered as a living divine incarnation by millions worldwide, is the 44th pontiff of the Mahanirvani Peetha, the most ancient apex body of Hinduism, as well as the 293rd pontiff of the Madurai Adheenam, the oldest monastery. He is the most watched spiritual teacher on YouTube with over 16 million views, and the author of more than 200 books published in 26 global languages. His talks are telecast live on http://www.Nithyananda.TV, everyday on multiple international television channels, two way video conferencing and Internet. Nithyananda has been named among the world's top 100 most spiritually influential personalities of 2012. He is a world-renowned spiritual healer as well as scientist who has successfully demystified the yogic sciences like kundalini awakening, levitation, materialization, anti-ageing, etc.