NBA Star Dwight Howard has 'Soul Rejuvenated' in Holy City of Varanasi
Celebrated American basketball player Dwight Howard has found "peace" after a visit to Varanasi, the spiritual capital of India.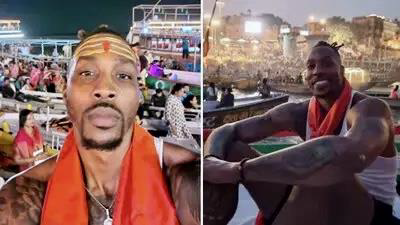 "At peace with myself and the world after a visit to Varanasi. A spiritual journey that has rejuvenated the soul," the 36-year-old wrote in an Instagram post.
The Los Angeles Lakers centre also hailed Indian Prime Minister Narendra Modi "for magical reformation of the holy city," and said that the sacred site will continue to inspire many legends.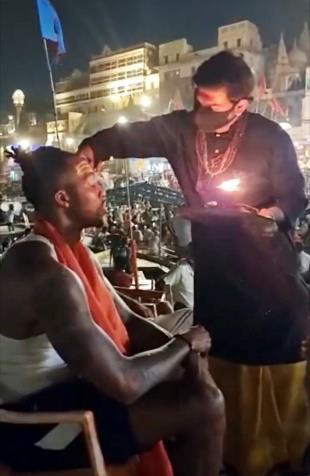 The Uttar Pradesh Tourism board also shared a video of Dwight Howard's visit, saying that the "NBA champion @DwightHoward traveled to #Varanasi. He enjoyed witnessing the transcendental Ganga Aarti and shared his experience on his visit to this ancient city of spirituality & culture."

Varanasi (also known as Kashi) is a city on the river Ganga in northern India. It remains probably the most important Hindu pilgrimage sites, known as tirthas; and it is the holiest of the seven sacred cities, the others being Ayodhya, Mathura, Haridwar, Kanchipuram, Dwarka and Ujjain.

Varanasi is also one of the oldest continuously inhabited cities in the world.

The Supreme Pontiff of Hinduism Bhagavan Sri Nithyananda Paramashiva has also referred to Varanasi (Kashi) as the Golden City. He has said that – The city of Kashi, or modern day Varanasi, was established thousands of years ago by Mahadeva Himself. Once, the bhootas, ganas and pretas requested Mahadeva to establish a community on the planet Earth. That is when Mahadeva came down on the planet Earth with His disciples, followers, bhootas, pretas and ganas and established the city of Kashi. Only after that did the Ganga flow to Kashi. Kashi is much older than even the Ganga river. The present day Kashi has seven layers of cities under it. It was built and sunk and then rebuilt and again sunk seven times. Even if you dig a bore well in Kashi, seven layers of cities will be found. The whole city is a consolidated experience of the principle of Advaita! It is the consolidated Advaitic experience of millions of enlightened beings. With that the city is built. That is why it is called the "Suvarna Bhoomi". The city is the "Golden City"(Ref: https://kailasapedia.org/wiki/Varanasi#References).

Dwight Howard was picked by Orlando Magic in the 2004 NBA Draft.
The eight-time All-Star was also part of US 'Dream Team' which won the basketball gold medal at the 2008 Beijing Olympics.