Outrage at Zapiro's cartoon on Ganesha goes global
05 November 2013 at 07:58 by Bronwyn Hardick – The controversy over Zapiro's Lord Ganesha cartoon is causing outrage among the world's 1 billion Hindu devotees, who are calling for an international apology and the removal of the cartoon from the internet.
As South African Hindus prepare to hold mass meetings and demonstrate at the Sunday Times offices in Durban, the Hindu community abroad has added its voice to the growing furore.
President of Universal Society of Hinduism, Rajan Zed, in a statement from Nevada in the US on Wednesday, said Zapiro's cartoon of Ganesha was hurtful and a trivialisation of a highly revered deity.
Zed urged Sunday Times editor, Phylicia Oppelt, as well as cartoonist Jonathan Shapiro to issue a formal apology immediately and remove the cartoon from their websites. He also urged the Hindus on the Times Media Group board to resign if no apology was offered.
The Sunday Times and Zapiro said they would not apologise for the cartoon.
Shapiro said his cartoon was not about religion and the image of Lord Ganesha was used as a metaphor.
Phylicia Oppelt, editor of the Sunday Times, said the cartoon made no comment on Hinduism or on Ganesha, but rather on the issue of CSA's decision to sacrifice Lorgat to secure a lucrative Indian tour to South Africa later this year.
The cartoon depicts Lord Ganesha – as the Board of Control for Cricket in India (BCCI) – offering money to Cricket SA (CSA) in return for the sacrifice of its chief executive, Haroon Lorgat.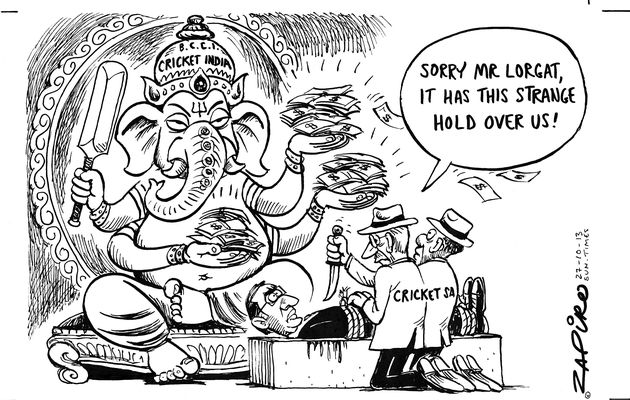 Zed said unnecessarily tying Ganesha in with the BCCI, depicting human sacrifice at his feet, and him holding a cricket bat and wads of money in his hands, instead of usual objects, like conch shell, was "highly inappropriate".
He said Hinduism was the oldest and third-largest religion of the world, and was rich in philosophical thought.
"Symbols of any faith, larger or smaller, should not be mishandled," he said.
Ashwin Trikamjee, president of the South African Hindu Maha Sabha, agreed.
He said he had been interviewed by a number of Indian media houses, including The Times of India.
"I have also spoken to the president of the BCCI and sent him a copy of the article, so I'm expecting a reaction soon."
Trikamjee said the Hindu community was insulted by the refusal to apologise.
"We're looking at pursuing legal action. The reaction from the Hindu community has been that of outrage. I don't know if Shapiro is just pig-headed or doesn't realise the impact on the community, particularly a week before Diwali. Lord Ganesha is revered by Hindus and is the object of prayer during Diwali."
President for the Hindu Dharma Sabha, Ram Maharaj, said a mass meeting would be held next Wednesday at the Durban Hindu Temple at 7pm.
He said Shapiro's refusal to apologise was "fuelling the fire of fury".
"We will not allow anyone to trample upon Hindu insensitivities with impunity. We will take this to the constitutional court if we have to," he said.
On Thursday, the Hindu Youth Network plans to hold a peaceful demonstration outside the Sunday Times offices in Durban where it intends to hand over a memorandum of its concerns.
Pregasen Pillay of the youth network said he was not surprised by the international response to the cartoon.
"To us, Lord Ganesha is like your best friend and when someone says something bad about your best friend, you will get upset. We would like Zapiro and the Sunday Times to reflect on what they have done and hopefully apologise. Our peaceful demonstration will reflect the values of Hinduism and we hope the Sunday Times will see that," he said.
The Freedom of Expression Institute said it was concerned by the outrage over the cartoon.
"In advancing rights we see as due to us by the constitution we must not be forgetful of other rights that are crucial to the functioning of our democracy, key to which the Right to Freedom of Expression is. Included in this right is artistic expression. The importance of artistic expression is the provocation and facilitation of crucial debate that is often ignored or 'brushed under the table', as it inspires engagement on subjects that would otherwise not be spoken widely of, yet they are of key public interest, the importance of this to democratic discourse cannot be emphasised enough," the organisation said in a statement.
"It is therefore important that such manner of expression is not censored in favour of personal interests that are far outweighed by the public good. In a manner of speaking we cannot have topics being 'out of bounds'.
"Further a continued sacrifice of artistic expression to the wishes of some sections of society at the expense of the public's right to be informed and having informed conversation and debate, may set a crippling precedent to the right of freedom of expression and journalistic freedom as it may advance to shield issues of concern such as corrupt practices and political malfunction."
From: http://www.jacarandafm.com/post/outrage-at-zapiros-cartoon-goes-global/