Twitter Erupts in Support of Jailed Godman Asaram Bapu
Twitter Erupts in Support of Jailed Godman Asaram Bapu

India Today Online New Delhi, December 19, 2013 | UPDATED 14:07 IST
Twitter is these days buzzing with tweets upon tweets demanding bail for Asaram Bapu, the self-styled spiritual guru jailed fore alleged sexual assault.


Their argument is if Lalu Prasad, the RJD chief jailed for five years for fodder scam, can be given bail, and if actor Sanjay Dutt can be released on parole, why not Asaram Bapu?


So the trending hashtag and word on Thursday was #WhySoBiased? and BapuJi.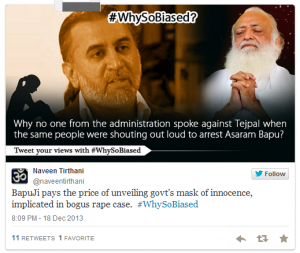 The godman's supporters are putting forward all sorts of arguments to build a case for his release from a jail in Jodhpur. The 72-year-old was arrested for allegedly sexually assaulting girl devotee in his ashram in Jodhpur. Asaram's son Narayan Sai too has been arrested for allegedly raping a woman in Surat in Gujarat.


The targets of the tweets are media outlets and the Congress-led UPA government that are being accused of "vilifying" "the Hindu saint". Sample this: "Years of philanthropy ignored, media cauterize Asaram Bapu without investing deep."


"Babulal Nagar,Tejpal getting food from Home but #Asaram Bapuji not allowed to take food from his Ashram.#WhySoBiased government?"


Private cooks, TV, food for political prisoners, 75 year old #Bapuji denied basic human rights."