In Support of Radhe Maa and Other "Self" Styled God Men and God Women.
There has been much clamor in the Indian media about the spiritual leader Radhe Maa because of photos of her in western clothes and allegations that she dances to movie tunes.  I never knew there was a dress code for Gurus. And the media goes on claiming her to be a "Self-styled Godman" – as if there are  other "Non-Self-Styled Godmen" as a counter. All spiritual leaders in India are self-styled. There is no "Spiritual Leader Accreditation Academy".  And if there was one, it would be filled socialist idiots and corrupt politicians and they would be selling degrees for money.
All Hindu Gurus are "Self" Styled. Ramakrishna was accused of being un-orthodox in his lifetime. So was Vivekananda who crossed the ocean and because had western women disciples whom he initiated into monk hood. So was Buddha because he preached against sacrifices. Buddha was poisoned by one of his devotees. And Lord Shiva himself. Prajapathi Daksha considered Lord Shiva, Mahadeva himself, to be not a God because he did not behave like Vishnu. Meera was shunned by everyone because she danced and sang – which was taboo in those times.
I am only supporting the right of each person in Hinduism to create and follow their own path. So long as it is not illegal there is no right for the government, media or any one else to call it wrong. Pluralism IS Hinduism. We may not agree with a particular sect. But we must defend their right to exist. Otherwise we will become a like Christianity and Islam – a single book dogmatic creed.
This article from Mumbai mirror where she answers all the questions says it all. Basically much ado about nothing. And the anti Hindi sentiments of the Indian media being exposed.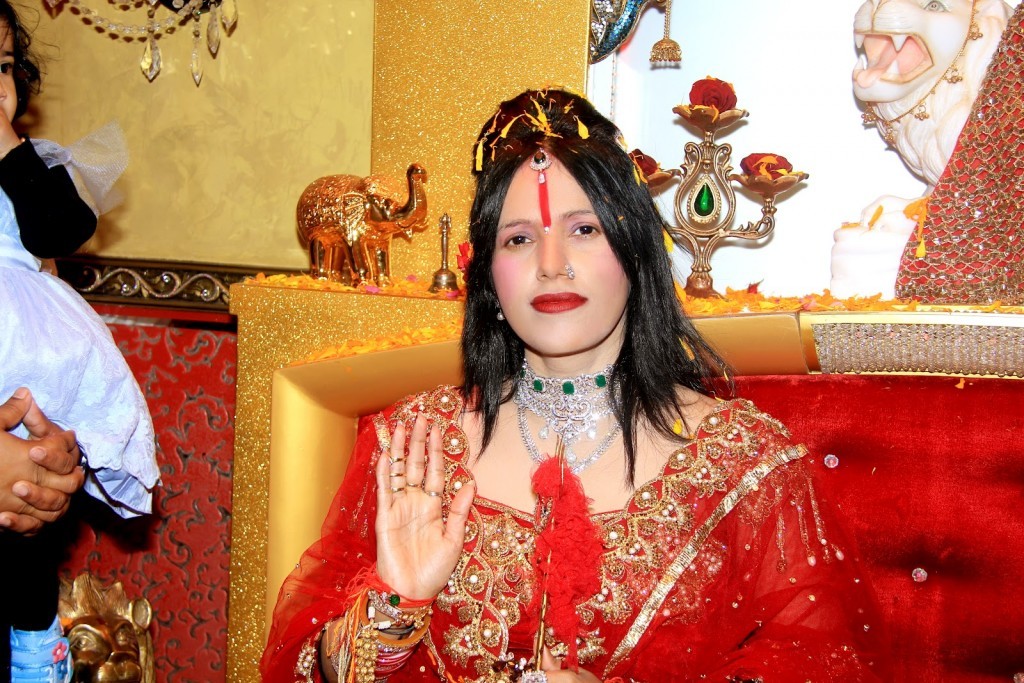 http://www.mumbaimirror.com/mumbai/cover-story/Maa-bank-account-has-Rs-8-10-lakh-CBI-free-to-check/articleshow/48445218.cms
A woman has levelled allegations that you influenced her in-laws to harass her for dowry…
It is a baseless allegation. I don't know the woman, I don't know what this case is all about and I don't even know how it all started. I am telling you clearly that I have no role in the case.
Have you sought anticipatory bail?
You have to speak to my lawyer about it. (Her close aide Sanjeev Gupta, who was present throughout the duration of this interview said Sanjeev said Radhe Maa will not need to apply for bail. "Yet, we are consulting advocates Girish Kedia and HS Ponda," he said.)
When did you get interested in spirituality? How did you land in Mumbai?
I started getting interested in bhakti 25 years ago. I was a devotee of god then and I am a devotee of god even now. That's it.
What is your relationship with the Guptas of MM Mithaiwala?
(Sanjeev Gupta interjects) "I met Maa for the first time 13 years ago. I have been a devotee since. Like people have their gurus, Maa is my guru. There is nothing else to this besides that.
Who are your celebrity followers?
Main hi khud celebrity hoon. Otherwise, I treat all my devotees equally as my followers. For me, no one is bigger or smaller than the other person when it comes to my followers. They are all the same.
Your devotees feel you are Goddess Durga incarnate. Why do you dress like Goddess Durga and have a trishul?
The trishul is part of Hindu identity and I am afollower of Hinduism. There is nothing wrong in my shringhar. It is not like Durga. What you see me wearing is how my bhakts dress me up.
What goes on in your mind when you are in the trance-like state and are twirling?
I get lost and enter a meditative space. There is only god in my mind when I am in that state.
What about devotees carrying you?
Who told you my devotees carry me? My son has lifted me once as I was tired. Maa thak jaati hai pravarchan karne ki baad.
There is a ban on you at Kumbh?
There is no ban. I can go to the kumbh anytime. I haven't heard anything from the organisers. If there is proof, show me.
Controversy has been following you ever since you were appointed as mahamandaleshwar in 2012…
There is no such controversy. I have attended so many kumbhs in the past. I am a Hindu and every Hindu has a right to attend kumbh.
What is your response to sadhus who oppose your inclusion citing your so-called lavish lifestyle?
What do you mean by lavish lifestyle? I dont even have a good enough bank balance. I have only Rs 8 to Rs 10 lakh with me. You can get the CBI to investigate this and I can promise you that even they won't find anything. And if you are talking about how I dress, like I told you I am dressed the way my bhakts dress me up. And I find nothing wrong in it.
It is alleged that you have not taken 'sanyas diksha', or performed the vijaya hom or renounced your past life…
I have taken sanyas diksha. As for the question about renunciation of past life, it is true that I am still very much in touch with my family. But what is wrong with that?
There are pictures of you in western clothes on the internet…
I went out on a trip with a group of families that are my devotees and that are very close to me. They gave me those clothes and wanted me to wear them. There is nothing wrong in those clothes nor are they obscene. And who told you sadhus and sadhvis have to dress in a particular manner? I listen to my bhakts and if they are happy I am happy.
How did these images leak?
I don't know. May be some people want to malign my image. They were spread in the media deliberately. They are my personal photos. The media had no right to publish them. It was wrong of them. I am very offended by this behaviour.