8000 year old Hindu Organization enters the Battle for Sanskrit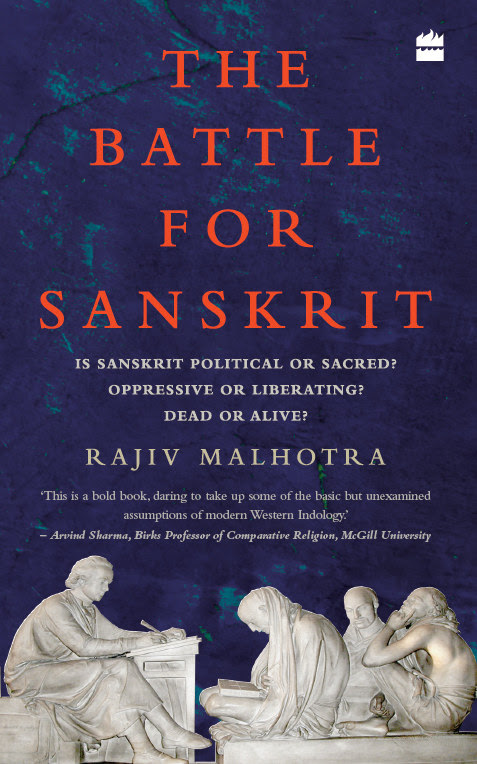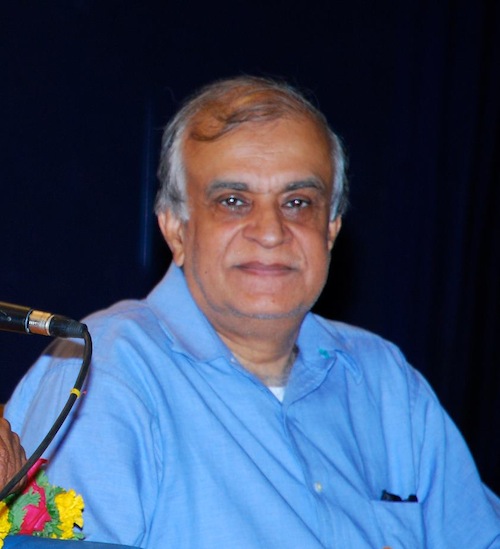 Prayag, India:  The Battle for Sanskrit has been getting interesting in the last few weeks since Rajiv Malhotra, Hindu American Thinker and author of several national best sellers, launched his book of the same name.  http://rajivmalhotra.com/books/the-battle-for-sanskrit/
Rajiv, in his book questions the distortion of the Indian ethos and Hinduism by western indologists who interpret Sanskrit and through that the various books on Sanskrit in an inauthentic and foreign manner. The Indian Union Minister for for minority affairs, Smt Najma Heptulla, when launching the book in Delhi rued that Sanskrit, despite being the oldest Indian language, was not taken care of in the country, while other nations "distorted" it.
The Battle for Sanskrit is the battle for Hinduism. The biggest attacks on Hinduism are happening because our scriptures have been wrongly translated based on western ideas and interpretations and then used to denigrate Hinduism.
Last week, the battle assumed greater significance with the Akhil Bharathiya Akhada Parishad, the oldest apex body of Hinduism gave a statement supporting Rajiv Malhotra in his battle and indicated the urgent need for Indians researching in to and studying Sanskrit.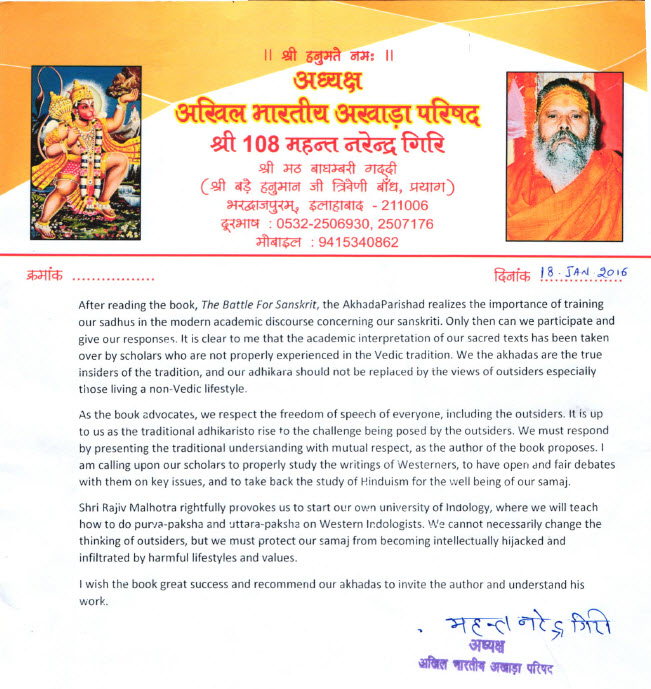 Sri Narendra Giri, the head of the Akhil Bharatiya Akhada Parishad, in his letter to Mr Malhotra said that the "AkhadaParishad realizes the importance of training our sadhus in the modern academic discourse concerning our sanskriti. lt is clear to me that the academic interpretation of our sacred texts has been taken over by scholars who are not properly experienced in the Vedic tradition". Sri Rajiv Malhotra, in his response online, referred to this letter as possibly the most important endorsement he has received for his book.
The 13 Akhadas (monk orders) that are lead by Akhil Bharatiya Akhada Parishad represent more than 2 million monks and run hundreds of thousands of temples and organizations around India. They conduct and organize the Kumbha Mela (spiritual fair) which is the largest gathering of humanity on the planet earth that happens once every 12 years. The last Kumbh Mela, happened in 2013 and was attended by more than 100 million people. The Akhadas have been organizing the Kumbh for the past eight thousand years.
Sri Paramahamsa Nithyananda one of the prominent leaders of the Mahanirvani Akhada greatly appreciated the work of Sri Rajiv Malhotra and emphasized the importance of Hindus defining their own grand narrative outside of the frameworks provided by the western civilizations and their thought trends.
http://www.firstpost.com/india/want-…-your-mind-says-najma-heptullah-2608572.html
http://www.niticentral.com/2016/…portant-sanskrit-scholar-to-engage-339945.html