Death By A Thousand Cuts: Kolkatta Police Bans Selfies During Durga Puja
Death by a thousand cuts. Each one just a tiny bit below the tolerance level of the sleeping, self obsessed, sickular Hindus. Each one sucking out just a little bit of the joy and spontaneity from our celebrations and replacing them with Christmas carols. That is how Hinduism is going to die – if we let each one of these slide. Not by a single stroke but by thousand cuts.
Ban using water during Holi. Stop immersing Ganesha idols in water bodies. Stop using crackers.  No water for Kumbh Mela. This year Kolkatta police is banning selfies with Ma Durga.  These are not unrelated and incidental restrictions.
They are driven by an unconscious idea that Hindu festivals are useless and a burden while Christmas and Eid are essential and fun.
If the Government cannot manage the crowds or provide facilities for its people, the Government must quit. Not place hurdles on devotees.  It is high time we start demanding that from our Government. Serve or Quit.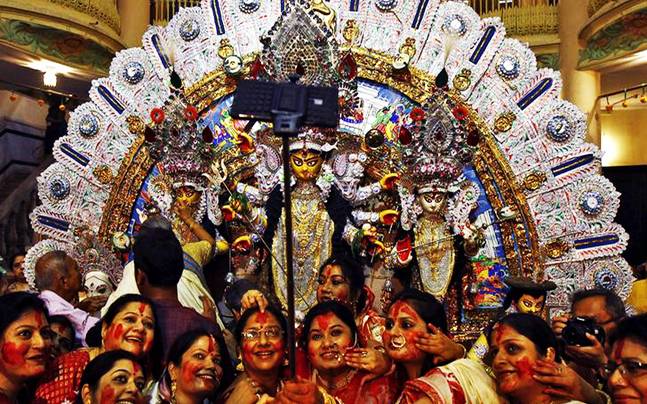 http://timesofindia.indiatimes.com/city/kolkata/No-more-selfie-with-Ma-Durga-this-season/articleshow/54258461.cms
KOLKATA: It's almost that time of the year when a goldmine of backdrops wait for selfie buffs – the pose before the Durga idol or the pandal winning all those brownie points among friends and peers. But Kolkata police is all set to foil the plan with the cops telling organizers that they need to stop pandal hoppers from taking selfies. If – like last year – a few of them do set up selfie zones, they need to set it up at a place where it does infringe on the free movement of the crowd.
According to cops, selfies have emerged as a major stumbling block last year with the young pandal hoppers insisting on clicking pictures from vantage points. "Not only did it block the entry and exit, it was also a security dilemma. Organizers have been asked to put up boards warning against such activity. Our men present near the pandal will be instructed to appeal to revelers not to block movement by trying to click selfies," a top Lalbazar officer said.
…