Da-wood and Bolly-wood: Why the Hullabaloo about the Pakistani Actors' Ban?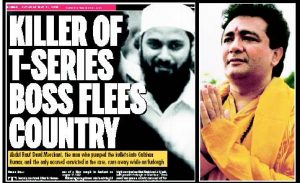 The killing of Gulshan Kumar on 12 Aug 1997 was a calculated and deliberate attempt to wrest the control of Bollywood away from those who were loyal to Hindu values and good cinema, and hand it over to a new breed of film makers who were in the control of Ibrahim Dawood.
It also saw the rise of Khans and a complete dominance of Hindi films by very shallow people with an agenda to destroy Indian social values at any cost.  Khans became great not because of their Stirling histrionics but due to a solid backing of ISI money and D-family clout. They have ruled the roost for the last decade and a half.

The Khans are now getting old and thick in the body and not likely to be heartthrobs for long. In the eyes of ISI, it would be a blunder to let go of the stranglehold that they have achieved over Bollywood. They know also that a new crop of Indian and Hindu actors may not be as pliable as the present one. They therefore need ' a new set of Khans ' who can be used to keep their control of Bollywood intact.

The decision to import and implant Pakistani Khans in India is a well thought out attempt to subvert India from within. If they can establish even one khan like Fowad Khan as the next great hero of Indian cinema their plan becomes successful. They have therefore paid great deal of money to a pliable set of producers and directors to slowly allow a rising number of Pakistani actors to find their feet in India and gain prominence. Ae Dil Hai Mushkil is the first of such attempts and should it succeed, there will more. Karan Johar and others of his ilk are just pawns on the chessboard of Bollywood.
It is for this reason that Pakistani actors must be stopped in their tracks
Deepak Kamath
http://saffronhindu.com/