It is rare for non-establishment films to do well in the mainstream Indian cinema industry, but The Kashmir Files blew everyone's expectations out of the park. Directed by Vivek Agnihotri, The Kashmir Files serves as a prime example of breaking the glass ceiling for movies highlighting the real and gruesome persecution of Indigenous Hindus in More...

500 Temples destroyed in 100 days in Tamil Nadu It has been nothing short of devastating, a devastating year for Hindu Temples in Tamil Nadu, a non-stop stream of reports of Hindu Temples demolished. Resulting More...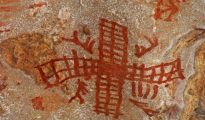 30,000 year old rock paintings found in the Bhimbetka caves in Bhanpura -Mandsaur in Madya Pradesh show, among other things, a painting of a board game. Unlike other cave paintings that show hunting and animals, More...